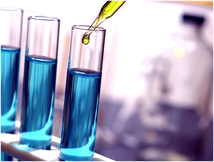 Aumgene Biosciences is a research driven biotech company based in Surat, India. Founded in 2004, the company undertakes development, manufacturing & marketing of Enzymes, Probiotics & Agribiotech products.
The company has in-house large scale fermentation facilities with more than 100 m3 of fermentation capacity. The company has state of the art R&D facilities for high throughput screening of microbial strains, fermentation process development & purification of enzymes & biologics. A multi-disciplinary team of scientists, engineers & project managers work on various biotech products / molecules at Aumgene's DSIR approved R&D facility in Surat. The company's R&D facility is equipped with state of the art infrastructure for product & process development of various biological products.
With its strong infrastructure & experience the company offers wide range of contract research & fermentation / toll manufacturing services to pharmaceutical, biotechnology & related companies. The company has executed several high value, long term manufacturing contracts with Indian & foreign companies for development & manufacturing of biological products. Aumgene is one of the few companies in India with complete in-house facilities for product & process development in lab scale, pilot scale & scale-up to large scale fermentation.